Angry Tortoise Run – BRAVO ZULU!!!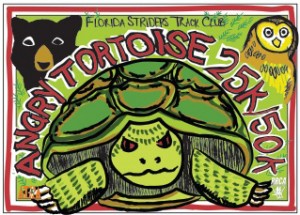 This email came to me this morning, and I wanted to share it with everyone in ClayARES.
Thank you to all those who helped with the Angry Tortoise Run…
Andrew Lee, N4NXS
Doug Mann, K1FTR
Don Munson, W4GFQ
Eric Sanford, KM4DSG
James Schroeder, W1JCS
Good Morning Scott,
I just wanted to send a quick email to say thanks again to you and your guys for coming out to support our race.  You guys sure made the race run more smoothly and made my job a lot easier!
I'd also like to brag about the races accomplishments, which you guys were a big part of:
We raised about $1,000 for the FSTC Children's running program, which helps keep elementary school kids active and healthy, which in turn helps improve their school performance and their futures!
The participants also raised over $350 directly for Cary State Forest, through the sales made at the Friends of Florida State Forest table.
And finally, we donated all of the left over supplies, food, and last years shirts to JASMYN, brining the total impact of our small 125 person event up to near $2,000!
Thanks again for your help!
Charlie Sauter-Hunsberger